Going In is a self-development program intended to help you refresh and recharge to live more fully and powerfully, made easy to work through and simple to scroll. With a focus on reflections and workbook style insight questions, the course guides individuals on a gentle dive deep into their story, agreements and patterns to release limiting beliefs and conditions, while supporting the re-emergence of their happiest, healthiest, most aligned and authentic self. With a supporting and loving tone, concepts are kept simple, comprehendible and all-inclusive. The goal is to make healing, releasing, inspiration, and expansion as easy and accessible as possible.
The course flow is divided into six main steps with dozens of subcategories, each featuring bundled, easily digestible age-old wisdom and content, transformational exercises and helpful resources. An app makes it easy to browse from your mobile device. You can choose topics to work through, or work through it as a whole.
GOING IN CAN HELP YOU...


-DRIVE LIFE MORE TO YOUR LIKING

-OVERCOME LIMITING BELIEFS, AGREEMENTS AND INSECURITIES

-IMPROVE COMMUNICATION IN ALL AREAS OF LIFE

-FEEL MORE POWERFUL IN MIND, BODY AND VITALITY

-ENJOY HEALTHIER RELATIONS

-RE-ALIGN TO GAIN STABILITY AND COMPOSURE

-HAVE MORE LOVE AND COMPASSION FOR YOURSELF AND OTHERS

-EXPAND YOUR PERSPECTIVE TO SEE MORE POSSIBILITIES

-LIVE WITH MORE PURPOSE AND ENTHUSIASM

-HARNESS YOUR UNIQUE GIFTS AND SKILLS

-HEAL, RELEASE AND RE-EMERGE
OUTLINE

00: Groundwork
Ground down into fundamental concepts including working with energy, intentions, breathwork, and elements.

01: Honoring Truth
Acknowledge and reaffirm truths, from universal laws to personal beliefs and agreements that have hardened into "truths". Closely examine your personal life story, triggers and reactive responses to create more ideal current and future experiences.

02: Transcend Illusions
In this powerful section, gently submerge into the depts of your darkness to heal and clear negative patterns, beliefs, and behaviors from social conditioning, traumas and turbulence. Unpack and heal residual issues relating to identity, ego, dependency and social influence, before feeling more trust and clarity than ever before.

03: Reconnect
After releasing some of your most hindering blocks and beliefs, this section offers you the sweet relief of re-establishing with a more powerful, wholesome you. Here, practice and nourish self care, wellness, intuition, passion, purpose, and manifesting.

04: Live in Love
With your channels open and aligned, you can work more closely with the vast power of your heart space. Matters of self-love, relations with others, intimacy, partnerships, mindful living and appreciation are covered here.

05: Completion
In this final section, reflect on and reaffirm the wisdom and tools that will help sustain the clarity and elevation gained as a result of your work.
GOING IN COVERS: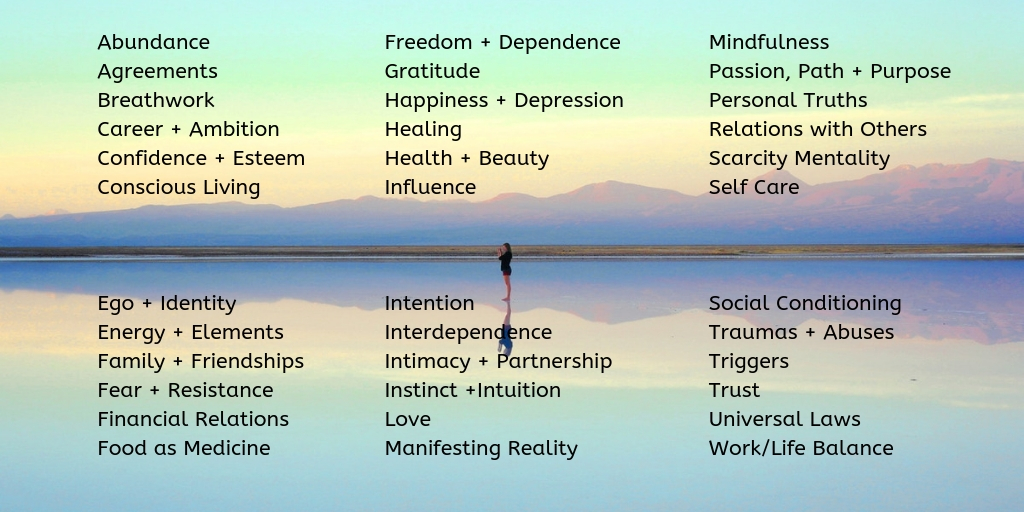 PREVIEW SELECT SECTIONS BELOW